Customer Reviews
Love love love
These are the best jars ever. Will definitely order more soon. Customer service was very nice and helpful.
04/16/2021
Doris S.

United States
Love these & not thin glassware either.
Expedite shipping
04/12/2021
Abby J.

United States
Amazing!!!
Just what I wanted, so cute!!!
03/03/2021
Jessica B.

United States
The deal is no scam!
I found out about these jars from an Instagram ad and when I saw the buy one get one deal I thought it must be too good to be true. It wasn't! I got two of these large mushroom jars, one medium one as well as a medium owl jar. They are all stellar quality, heavy, beautiful!! i will say the lavender mushroom could do with a bit more pigment as it was quite sheer but overall I am very very happy. These jars are very cute and worth buying!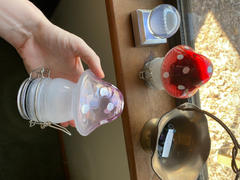 03/02/2021
Lunar T.

United States
You guys rock
Casey is seriously the best. Very professional and and kind. The product sells well in my store and the company is straight legit.